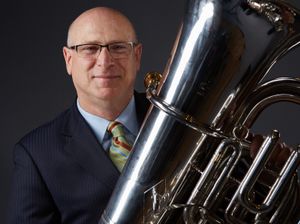 Bio
Michael Salzman is an Adjunct Professor and Tuba/Euphonium Instructor at Hofstra University, in Hempstead, New York.  He earned Music Performance degrees at Indiana University and the Mannes College of Music.  His principal teachers were Harvey Phillips, Sam Pilafian, Warren Deck and Bill Barber.  He is well regarded as a freelance tubist in the New York City area.  He is a former Principal Tuba player of the Long Island Philharmonic and a founding member of the Cosmopolitan Brass Quintet.  He has performed with many regional ensembles including the Goldman Memorial Band, the Concert Pops of Long Island, and the 92 Street Y Ragtime Orchestra.  He has performed as a tuba soloist and as a guest conductor throughout New York State, and has presented Master Classes and Lecture/Recitals at the Eastman School of Music, Bowling Green (Ohio) State University, and Ithaca College, as well as at many state and regional conferences.  He is the Regional Coordinator of the TubaChristmas concerts held every year at Rockefeller Center. 
Recently retired (July 2022) Salzman served as the Coordinator of Fine and Performing Arts for the Syosset Central School District since 2004.  He has taught music at every grade level from Pre-K through college.  He has been a Band Director at the Elementary, Middle School and High School levels, and has additionally served on the music faculty of Hofstra University since 1993. 
Passionate about the benefits of music education in the lives of children, Salzman has been very active in professional associations for his entire career.  He is a Past President of NYSSMA, the New York State School Music Association, having served as President of this association of more than 5000 members in 2018-2019.  The theme of his presidency was "Making the Magic of Music Education Accessible to All" and during his term he advocated throughout the state of New York for the right of every child to have access to a high quality Music Education. Previously, he held many positions within NYSSMA and also served as the President of the Nassau (county) Music Educators Association in 1999-2000. 
Equally passionate about the tuba, he has juggled teaching and performing careers for more than 30 years.  He lives on Long Island with his wife Kathi, a Speech Therapist.  Their children Max and Gabriel work in the television and theater industries in New York City.